Recently Elle Magazine ran a competition to become an intern (Paid!) for a year, working at both The Elle Beauty Deparment and Cussons PR. To enter you had to write 500 words about a beauty brand (not a product, a brand) which you love.
As readers of this blog know, I love fashion, beauty, myth and all things pretty with an edge, The 'Look Closer' element of something, initially pleasing, but which conveys a darkness, sexuality, even seediness when you look up close.
The Iconic American Beauty poster, very pretty, but 'Look Closer'


I like the twisted sensual beauty of Nabokov's Lolita, the vulnerable adolescent beauty of the Lisbon Sisters in The Virgin Suicides, the desperate manic beauty of mad women in Literature, such as Antoinette in Wide Sargasso Sea.
Due to this I couldn't choose a straight forward beauty brand, one which specialies in prettyfying, and little else. Yes, Benefit makeup is very lovely, Lancome have a nice range of colours, Chanel is very chic, but none of them compare to Guerlain, the brand who created the packaging of their most innocently named lipstick 'kiss kiss' in the shape of a totem pole. Even with colours, such as pushy pink and Rouge Taffeta, evocative of parties attended by sweetly coquettish young women in their lovliest clothes, there is an underlying darkness to this lipstick. Totem poles were traditionally a symbol or mortuary structures, so the young girl applying her lipstick in the mirror, might give a shudder when the coolth of the lipstick touches begins to melt into her lips
Very pretty, very bubbly, the lipsticks seem to say, but this is temporary, and beauty is stronger for the fact that it must die. A classic 'look closer' piece of design, transforming prettiness into something deeper, darker, something which deserves the name of beauty.
The 'Precious Colours' are not just prescious in a gift wrapped, ribbons curled with the blade of a knife way, they are actually precious as they are so fleeting.
As my Elle/Cussons piece was only 500 words long I couldn't include this, I did however write about the many reasons why Guerlain is more than just a beauty brand
See what I did write here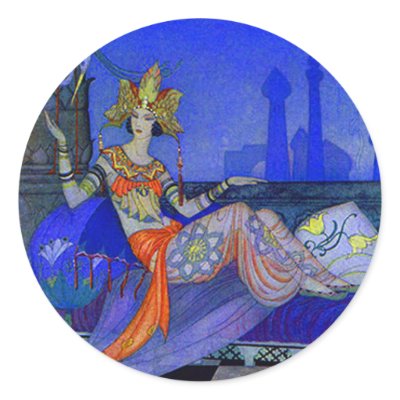 Scheherazade weaving her magic, which is with us even now, in the perfumes and makeup you wear
As a child I was entranced by an illustrated copy of 1001 Arabian Nights, which I would pull from my parents' bookcase long before I was able to read. The midnight blues and golds of the palaces, Sceherazade with her khol-rimmed eyes and corageous nature, the Sultan, genies and
flying carpets, were all bound in this deep blue book, where an unjustly condemned wife tells nightly tales of love, heroism, revenge and desire, to pique her husband's interest so he will spare her life.
In one of these tales the heroine is Nahema, a spirited beauty with long dark hair and a silk dress the colour of fire.
I was sixteen a grungy teenager, all oversized sweaters and limp hair, when my Mother bought a bottle of of Nahema, by Guerlain, but when I lifted the pale gold bottle and sprayed it on my wrist and
throat I felt something startling, potent, heady. Suddenly I remembered the sumptuous illustations and the girl with a dress like fire. This was the moment I realised the potency of cosmetics, the way
they could transport you, transform you, and make you part of a legend.
I love Guerlain for the way in which it evokes myth. All their lipsticks, like their perfumes, have a story attached. Mitsouko is the name of a sweet Japanese girl who had a tragic affair with a soldier
in Claude Farrere's novel La bataille, Shalimar, that of an Emporer's beloved wife, who died young, and still haunts the gardens near the Taj Mahal. Apres L'Ondee, a pop-art pink, translates as 'after the
rain shower' and is evocative of spring, of kisses in bandstands, of the beginning of love.
Catherine Deneuve and Nino Castlenuovo in Les Parapluies Des Cherboug, a pop art masterpiece of a film, about first love and umbrellas. The film instantly came into my mind when I saw the lipstick Apres L'ondee.
Shalimar Pink, deeper and bolder than you could ever imagine, but still playfuly pink


The Shalimar girl
Guerlain, founded in 1828, understands the continuing power of mythology, of evocation, of stirring memory, of creating desire.
The packaging too is reminiscent of how Guerlain's long history is interwoven with stories, both real and fairytale. Rouge Automatique, a lipstick you can open with one hand, was created in the art deco
style, it's symmetrical functional lines reflecting those of the Empire State Building,, while the bottle containing Samsara is modelled on an sillouhette of a Khmer Dancer, seen in The Musee Guimet
in Paris.
Just as the audacious pink of Shalimar lipstick avoids being Barbie-dollesque through the tragedy which surrounds it, making the pink suddenly dark, intense and not at all fluffy, so the Golds and
silvers of the Guerlain packaging do not say bling, but speak of austerity, of a tradition rooted in history and fantasy. They have been written about by Jean Rhys, Colette and Bulgakov. Their muses
have included mythological heroines alongside real women, such as Catherine Deneuve, and their current model, Natalia Vodianova, who stares out from their adverts, beautiful as any mythical heroine, and continuing the tradition of the Shalimar girl, who will have many
faces, all beuatiful, bold and dreamy.
I imagine her walking through an exotic garden of luscious greens and pinks, before glancing over her shoulder one last time, then turning to go.